Google Workspace Individual: An In-Depth Guide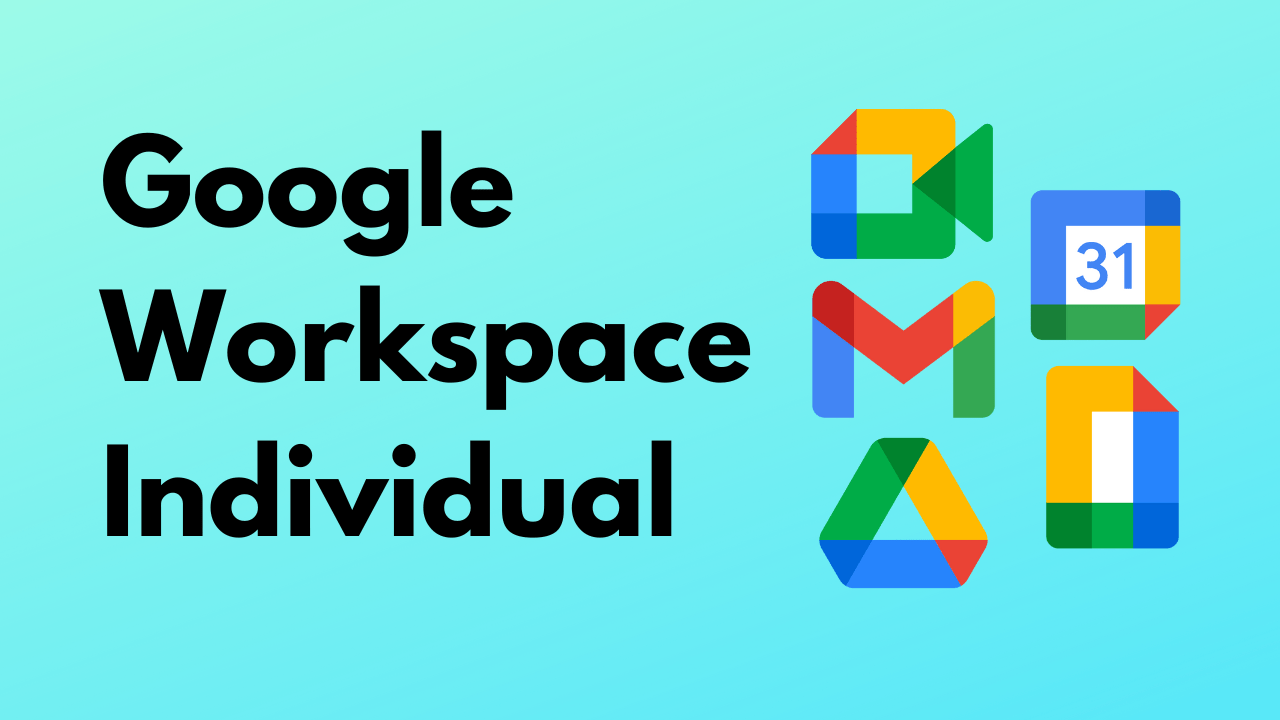 Formerly known as G Suite and Google Apps, Google Workspace is a comprehensive communication and collaboration tool for individuals and organizations. This guide will provide an in-depth overview of Google Workspace Individual, its key features, benefits, and pricing.
What is Google Workspace Individual?
Google Workspace Individual is a subscription-based service that Google offers. It provides powerful tools to enhance productivity and collaboration for individuals. It also offers an integrated platform where users can access essential applications. It includes Gmail, Google Drive, Google Docs, Sheets, Slides, and more.
Key Features and Benefits
With Google Workspace Individual, you can have a professional email address using your domain name. It enhances your online presence and makes your communications more credible.
Google Drive offers secure cloud storage where you can store, access, and share your files from anywhere, on any device. It eliminates the need for local storage and ensures your files are always available.
Google Workspace Individual enables seamless collaboration with others on documents, spreadsheets, and presentations. Multiple users can edit a file simultaneously, fostering teamwork and efficiency.
The suite includes a range of productivity apps like Google Docs, Sheets, and Slides, which allow you to create, edit, and collaborate on documents, spreadsheets, and presentations in real-time.
Stay connected with colleagues, clients, or friends through video conferencing with Google Meet. Host virtual meetings, webinars, or catch-up calls effortlessly.
Personalize your online identity by using your domain name for your email address. It gives a professional touch to your communication.
Subscribers of Google Workspace Individual receive priority support from Google's experts, ensuring that any technical issues are addressed promptly.
Why Choose Google Workspace Individual?
A custom domain email address portrays professionalism and helps you stand out in your communications.
Google Workspace provides a unified platform where you can seamlessly create, store, and collaborate on documents, emails, and files.
Real-time collaboration and cloud storage reduce the need for constant file sharing and version control, increasing efficiency.
Google's infrastructure ensures reliable access to your emails and files, with backups and security measures in place.
The availability of priority support ensures that any technical issues are resolved quickly, minimizing disruptions to your workflow.
What is the pricing of Google Workspace Individual?
The g suite pricing is $9.99 per month or $99.96 per year when billed annually. This subscription provides access to a suite of productivity and collaboration tools, including Gmail, Google Drive, Docs, Sheets, Slides, and more. With a custom domain email, real-time collaboration features, and priority support, Google Workspace Individual offers individuals a comprehensive platform to enhance their productivity and professionalism.
You can also acquire Google Workspace through authorized partners. Google has a network of partners offering services and expertise to help businesses and individuals set up and manage Google Workspace. These partners can assist with implementation, migration, training, and ongoing support.
Working with a Google Workspace partner can be beneficial, especially for larger organizations or those with complex needs. Partners can provide customized solutions, advice on best practices, and dedicated support to ensure a smooth transition to Google Workspace.
Getting Started
Getting started with Google Workspace Individual is a simple process:
Select whether you prefer a monthly or annual payment option, and then choose the plan that best suits your needs.
If you own a domain, integrate it seamlessly with Google Workspace. If not, you can purchase a new domain through Google Domains.
Follow the user-friendly guide to establish your Google Workspace Individual account. It involves creating your account, configuring your custom domain email address, and personalizing your settings to match your preferences.
Once your account is established, investigate the various applications and features. Discover the capabilities of Gmail, Google Drive, Docs, Sheets, Slides, and other tools designed to enhance productivity and streamline collaboration.
Conclusion
Google Workspace Individual is an excellent solution for individuals looking to enhance their productivity, professionalism, and collaboration capabilities. Its comprehensive suite of tools, custom domain email, and real-time collaboration features provides a robust platform to streamline your work and communication. The pricing is reasonable for the value it offers, and the priority support ensures a smooth experience. Whether you're a freelancer, entrepreneur, or professional, Google Workspace Individual can help you work smarter and more efficiently.